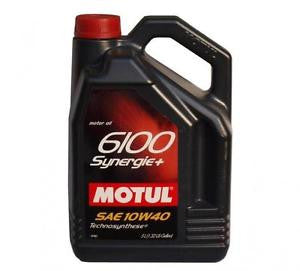 Motul 10W40 Motor Oil (5 Liters)
2002
Regular price $40.99 Sale
MOTUL Motor Oil 6100 Series is specially designed for side by side applications. 
MOTUL 6100 Technosynthse Synergie 10W40
STANDARDS ACEA A3 / B3
The new standard API SL is more stringent than API SJ in terms of aging resistance (average drain interval increased), requires anti-oxidation properties that maintain a constant viscosity avoiding sludge and deposits in the crankcase, anti-wear properties and dispersing power
SAE 10W-40 viscosity grade is fully suitable for recent gasoline engines.
The reinforced synthetic base stock provides very high lubricating power which reduces frictions decreases the volatility and ensures resistance to very high temperatures reached in modern engines.
Anti-oxidation, Anti-wear, Anti-corrosion, Anti-foam properties.